At the Fanboys Blog Aloud preview screening, I shared about a fellow fan who wanted to join us for the movie but was unable to do so due to his medical condition. To respect his privacy, I shall refer to him as
J
.
We appreciate the effort of the folks at GV who managed to get us the Fanboys movie poster. And we are especially encouraged by all who signed the poster and penned their well-wishes... Indeed, true to the spirit of Fanboys.
We had the poster framed, and a group of fans visited
J
this afternoon to present the gift on everyone's behalf. I could not be there in person due to my cough, but I am told
J
was very touched and appreciative of the kind thoughts from the community of fans.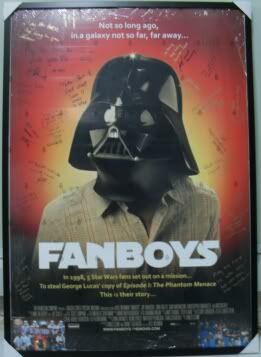 This thread is dedicated to J. Let us continue to offer our encouragement to J as he remains strong through his chemotherapy treatments and perseveres in his battle against leukemia