James Cameron's AVATARâ"¢ Amp Suit
Series #:
R2315
UPC/EAN/ISBN:
027084899245
Manufacturer:
Mattel
Availability:
Online Stores /Toy Specialty Outlets
Release Date:
December 2009
Price:
USD$19.99(Shop@Mattel)/USD$24.99(Entertainment Earth)/SGD$49.90(Simply Toys)
References:
•
http://shop.mattel.com/product/index.js ... Id=3761255
•
http://www.entertainmentearth.com/prodi ... T3900#desc
•
http://shop.simplytoys.com.sg/index.php ... c7gud5i1v3
All thumbnails are clickable, and will bring you to a higher res version at 800x600pixels.
The packaging pics...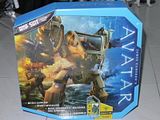 James Cameron's AVATAR
On a deadly but mineral-rich dsitant moon called Pandora, ex-Marine Jake Sully is torn between duty and honor when he finds himself caught between the heavily armed forces of Earth's most powerful star-faring consortium and an exotic, noble alien race whose very existence is threatened by the human invaders.

Official Name: M-6 Amplified Mobility Suit
Function: Ambulatory hydralic armored weapons platform for military and civilian operatios in hostile and toxic environments.
Field Names: AMP suit, "Iron Lady"
Size and weight: Thirteen feet in height, six feet wide
Feature: GPS, Cockpit commands are verbally activated, coded to operator's voiceprint pattern. Thermal imaging display screens.
Weaponry: Hip-mounted and detachable GAV-90 thirty millimeter cannon, optional flamethrower, slashing blade knife.
I assumed for such a complex-looking vehicle, at a scale for 3.75" figures, the box might be bigger. But no, it's actually smaller, and quite compact.
Let rip into it...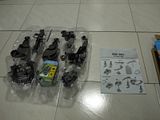 The leaflet: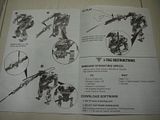 The unassembled parts in the plastic tray.
After removing them...
The assembly is fast and easy. Most of the joints just click-on.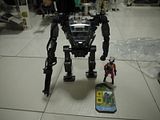 A 3.75" figure for scale and size.
Here's the 4 views of the AMP suit.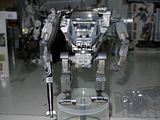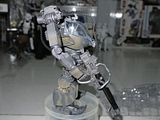 A closer look at the cockpit...
From the back...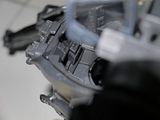 Just check out those controls.
The weapons...
The 30mm cannon and ammo...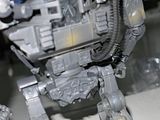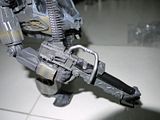 The knife...
For a toy, this vehicle is highly detailed, and the weathering effects are great. The articulation is top-notch too, with either tight joints or click-types.
I have yet to test out the included i-TAG for webcam. Probably will do that when I have the time...
In the meantime, to end off this short review, here's more pics...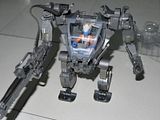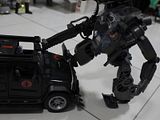 Thanks for reading.