Hi, folks.
For Singaporeans who want to make a movie-accurate Royal Guard costume, I'm writing this to supplement the detachment forum at Forcepike.net. This includes help in navigating the detachment forum, as well as some local(-ish) sources of materials.
Detachment Forum - Forcepike.net
Almost all the information you need is there, but the forums are divided according to Episode.
Episode 6 - click
here
Episode 2 - click
here
Episode 3 - click
here
Episode 2 & 3 Force Pile - click
here
Visual References (Photobucket) - click
here
There are other forums giving guidance on making other types of Guards, e.g., the blue Senate Guards, the Crimson Empire comics, Guards from The Force Unleashed, and so on.
Choosing which Episode
There are differences between the three Royal Guard versions, and these can have HUGE different effects on budget, comfort and so on.
Boots:
2: Black non-glossy square-toed
3: Red suede pointed tip
6: Red suede pointed tip
Helmet (this is not important for 501st membership purposes):
2: Wide shoulder
3: Narrow shoulder (same as TFU)
4: Wide shoulder
Outer Robe Slits:
2: Two - front left and front right. Front panel overlaps back panel, both cover the shoulder.
3: Four - one in from and behind each arm. Highest ventilation.
4: One - front right, with front panel overlapping back panel.
Gloves Material:
2: Cloth/suede
3: Leather
6: Cloth/suede
Force Pike Emitter Tip Design:
2: "Stacked ring"
3: "Stacked ring"
6: "Rasp"
Mythbusting and Other Points
Sash Detail: ROTJ pictures show a dark band in the middle of the sash. This is not leather. It is fabric of the same/similar texture to the sash. You may use rope (buy from Spotlight) to achieve even greater detailing as suggested by the Steve Sansweet museum picture.
Shoulder pads: ROTS guards are obviously padded. You should use hard padding to ensure the weight of the helmet rests on your shoulders and not your head.
Visor: These sometimes appear dark/black due to backlighting/shadow. All frontal well-lit shots from production stills of all three movies show that the visor is a clear dark red.
Length of inner robe: It stretches lower than outer robe.
Length of outer robe: No less than one inch off the ground, lest it be a fire hazard. The AOTC reference pic shows boots and inner robe visible from under the outer robe.
Pike Shaft: For 501st membership purposes, it doesn't matter if it is straight or tapered.
Suppliers (Local or Nearby)
Boots from Bangkok Bootery - click
here
Visor: Art supplies shop at Bras Basah, facing ascending escalator (near Basheer comics).
Fabrics: look for fabrics in Joo Chiat plaza as well as People's Park. For the inner robe fabric, I recommend a Georgette or other lighter fabric due to our climate.
Pictures
Helmet shoulder flare comparison: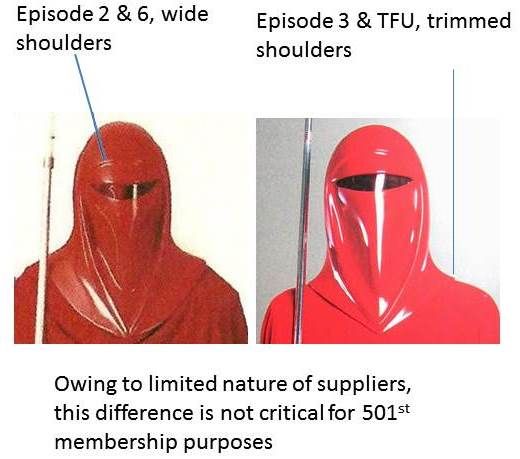 AOTC Full Frontal, including bottom of inner robe and boots: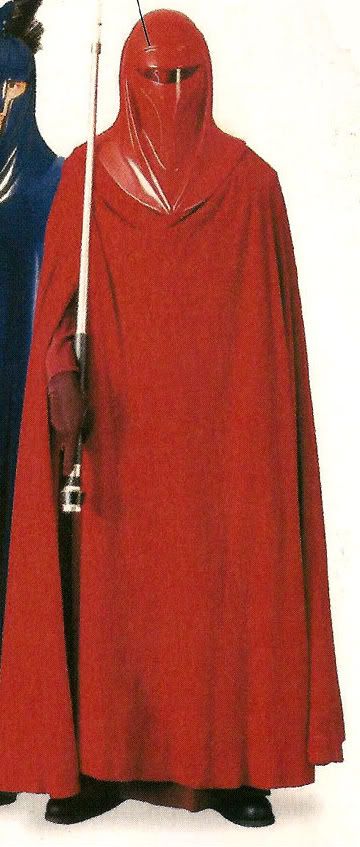 AOTC shoulder and arm slit detail:
ROTS/ROTJ Red Suede Boots: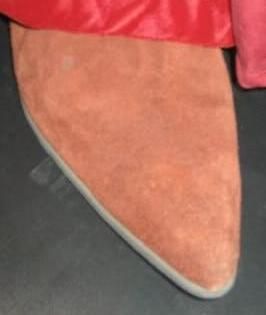 ROTS Padded Shoulders and Boots:
ROTS showing front and back slits of left arm: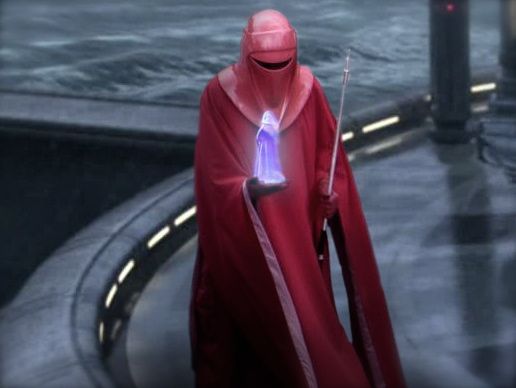 ROTJ Rasp Emitter:
ROTJ Shoulder and Sash: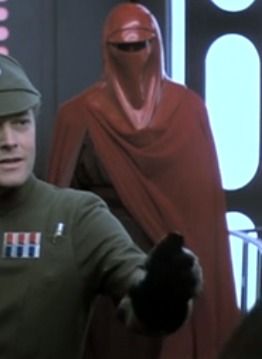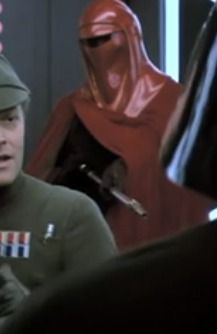 Sash Hyperdetail (not important) per Sansweet: