Hi all,
donleow has invited me to write a Jedi tutorial many weeks ago and finally I have managed to come up with this. This long overdue write-up does not actually teach any Jedi wannabe how to sew a costume. It merely documents my experience of putting up one for the Star Wars Bazaar at Singapore Science Center last April. However, I have included templates for the clothing parts for those who have sewing experience.
What character to appear at the SW Bazaar?
It was only 2 weeks away from the SW Bazzar weekends and I needed a costume that I could wear whole day long in an non-airconditioned environment. Troopers and the other cool-looking characters were definitely out of question due to lack of time, fund and the above-mentioned criteria. Jedi was relatively inexperience and 'do-able'. So I had narrowed my choice to a Jedi costume.
To buy or to custome-made?
In the ebay, I had come across the Shop at Chinatown Point called Pan-in-the-box that was selling Jedi costumes and accessories. But the total cost was well over 500 dollars and the clothes (later I learned the names to the different parts) run out of stock. I left the shop but noted the stuffs that were available.
Luckily, my mother, who is a retired seamtress, agreed to sew the Jedi clothes for me. Thus, I had saved about 300 dollars plus from the total cost.
Choosing a Jedi character
Since Obi-wan character was about my age and the shop had the Jedi stuffs that I needed, I had settled on trying to look like the character.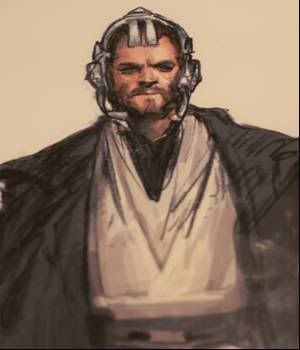 Challenges
As my mother was formerly sewing conventional dresses, so the japanese-looking costume was unfamilar to her. I had to provide her with some references like pictures and toys. At that point, I did not get enough details of the back of the Jedi master costume and what were the layers underneath it.
Reference source
Finally, I stumbled upon this insightful web site
http://www.padawansguide.com/
showing the details I needed. A lot of its members and SW fans have contributed many exhibition costumes pics and tutorials. This site became my main reference source for discussion with my mother.
Here are 2 of valuable pics that I needed.
Front view of a real Obi-wan costume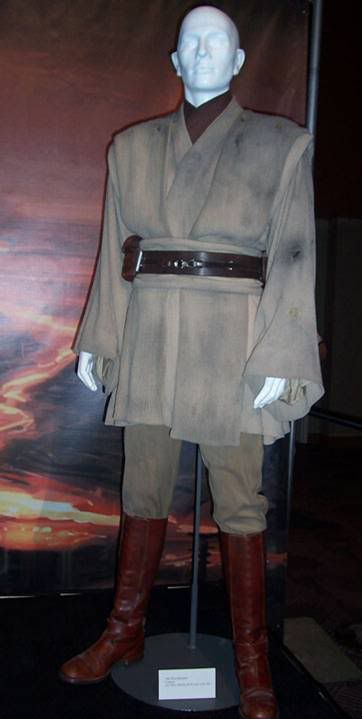 Rear view of the real Obi-wan costume.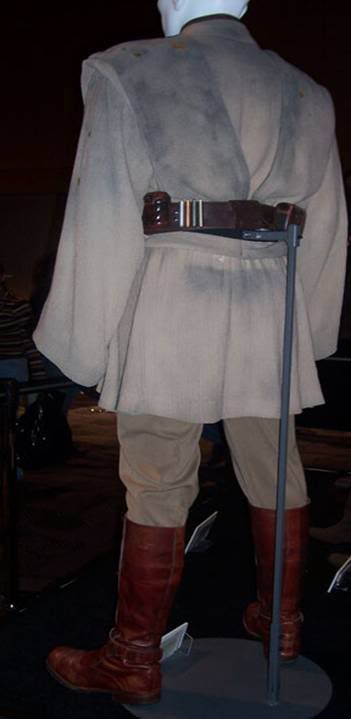 Material
I bought all of my cloth material from Textile Centre and Joo Chiat Complex. I have selected the thinner materials due to practical reason and cost. For the PVC or Fake leather materials that I will mention later, these were remnants from my mother's 'treasure'. I heard from fellow members that Arab Street shops do sell them.
I learned from the Padawan Guide site, the actual material for the Tunics (see below what are these) were actually
Indian Homespun
like those worn by Ghandi. Maybe one of these days when I want to upgrade my costume, I would visit Little India shops.
Overview of my Jedi Costume
Here are overview pics of my Jedi costumes with labelling of the different parts that I learned from padawanguide. While I was taking photographs of these, I had left my regular pants at my parents' so my dark brown working pants just stand in.

Front view
Rear view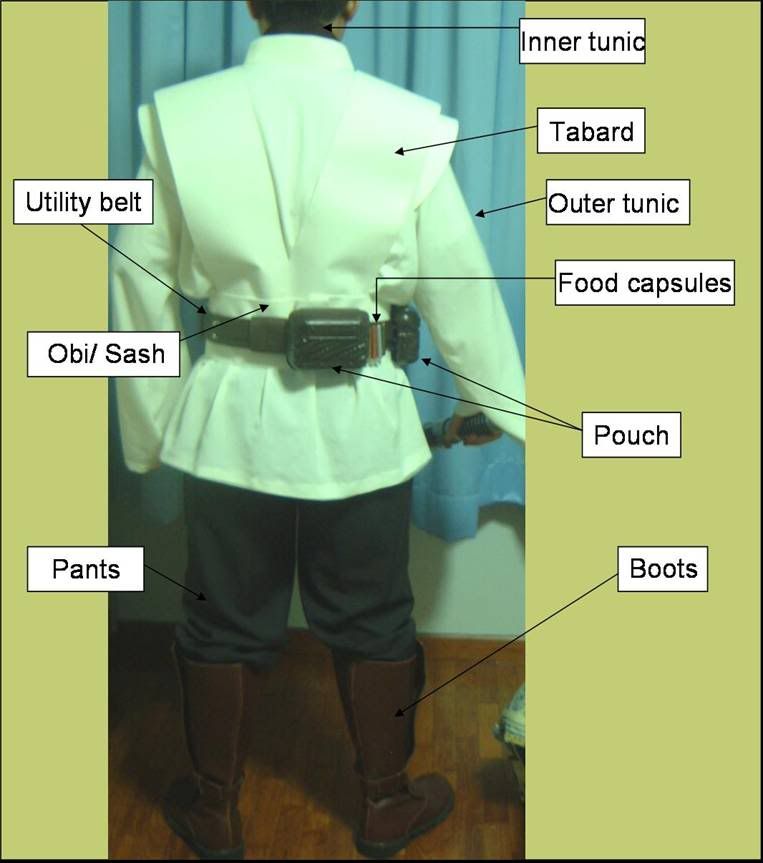 Outer Tunic
This part took up most of my mother's time due to her unfamilarity with it.
Front view of my Outer Tunic
Outer Tunic with buttons to secure its collar and attach the Tabards later on.
Rear view of the Outer Tunic. Notice that there are some permanently sewn folds to look neater when the Sash and Belt were worn.
Tabard/ Sash
The 2 bottons on each shoulder of the Outer Tunic were for attaching the Tabards at their loops.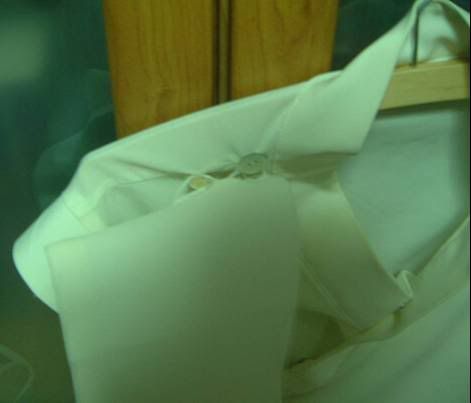 Initially, the Tabards I wore to the Bazaar were softer, so the portion at my shoulders would wrinkle. After the event, I have requested my mother to alter the Tabards(and Sash) by adding a hard adhesive material which she called 'collar cloth' underneath them. This had also made me look more board at the shoulders.

Another problem with the earlier straight version was both pieces of Tabard would cross each other. This had made them unsightly. It was latter solved by cutting the portion at my waist level and then joint back. They look like Y shaped now. I have also required the portion below the Sash to be next to each other. This could be done by fixing a small button at the waist level but would be hidden by the Sash latter.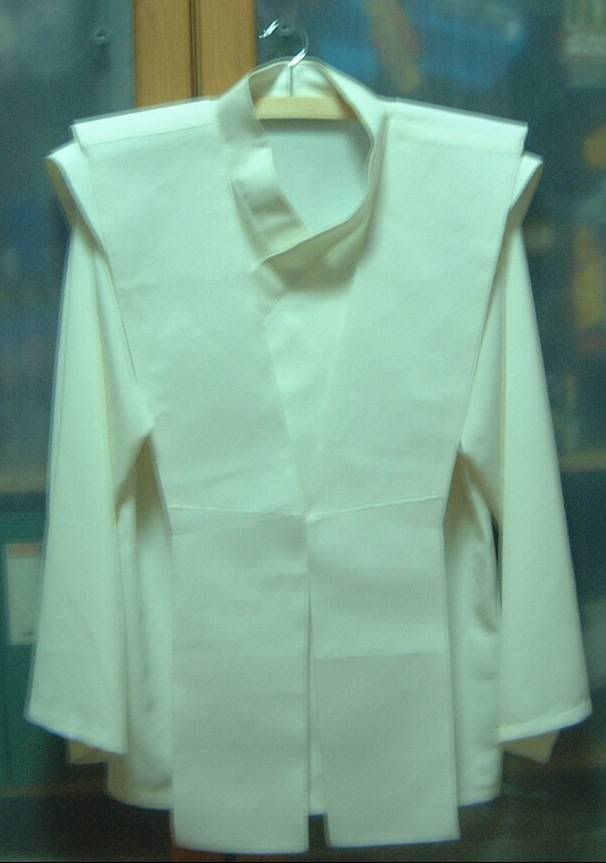 Rear portions of the Tabards were attached with Velcros.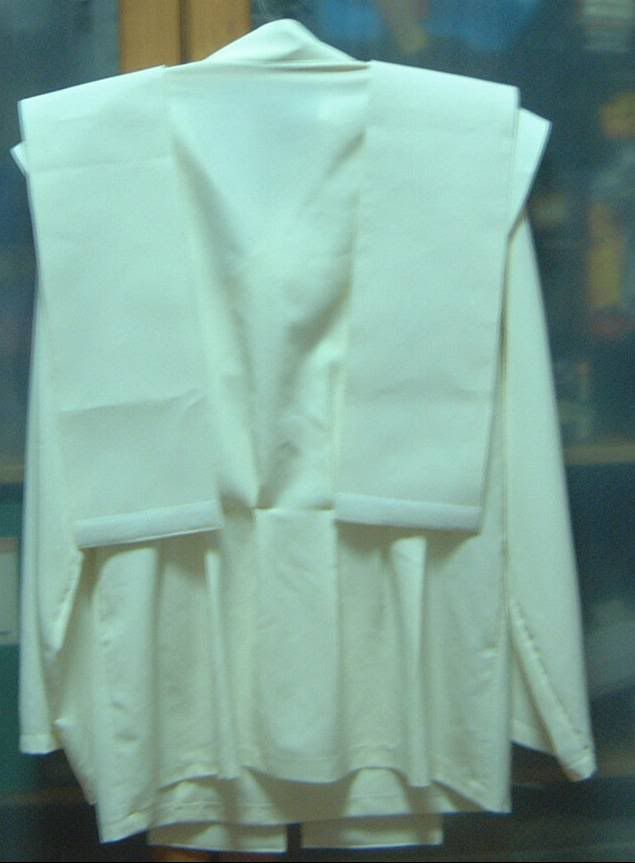 The Tabards are attached to the Sash that were sewn with Velcro strips too. Care have to be taken to ensure the 2 Tabards form a V shaped at the back.
The Tabard at the back stops at the Sash or my waist level. This had made my mother's work more difficult. There were 4 Velcros at the Sashs and 1 Velcro at each Tabard.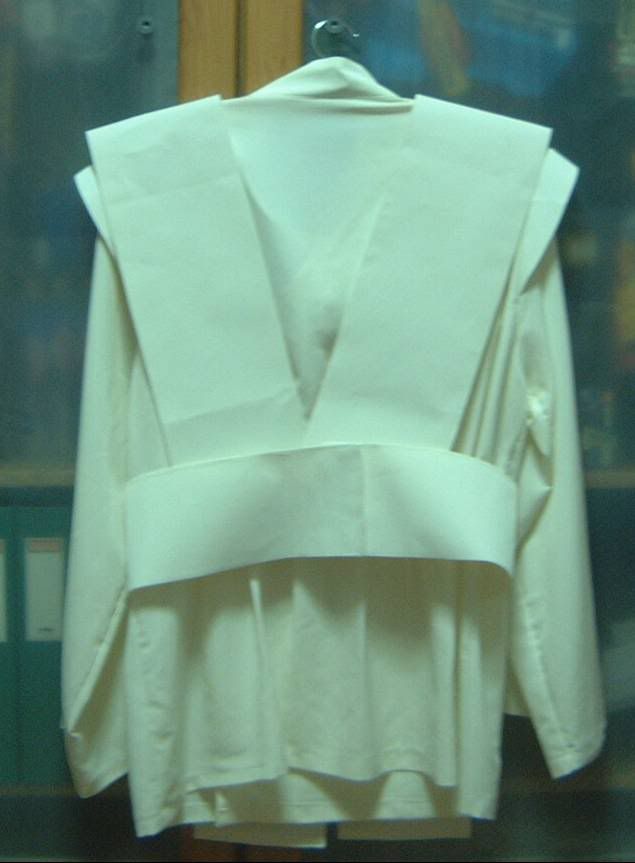 So I had noticed the Hasbro EP3 Obiwan's Tabard at the back were not accurate at the back. The figures in EP1 and EP2 were accurate though. So somebody at Hasbro did not do their homework.

Generally, most Jedi costumes in the prequel movies have both the front and back Tabards looked like Y-shaped.
Inner Tunic
Due to the hot weather in Singapore, we have made the Inner Tunic a fake one.

Its collar, which was the only visible portion, was actually just a rectangle piece of cloth with 3 sets of small buttons.
It is just tucked into the Outer Tunic collar and also functions to absorb the sweat around my neck.
If you are a perfectionist, check out how the inner Tunic looks like for Obi-Wan. Pic taken from Padawan Guide.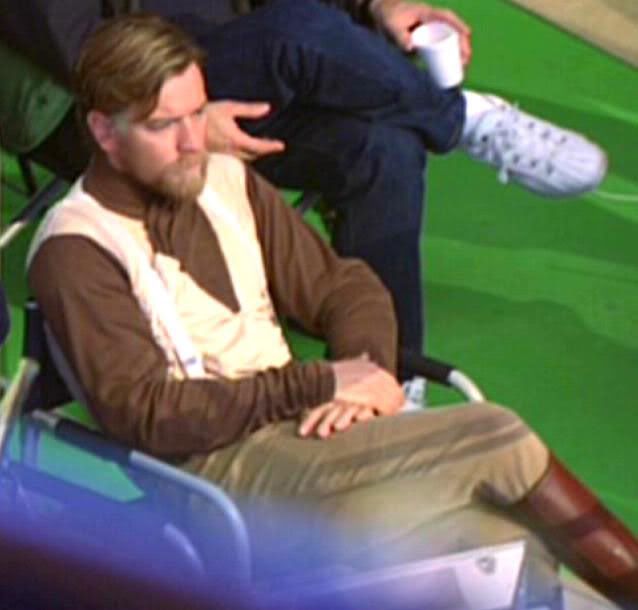 Jedi pants
This was the easiest part to communicate to my mother. She just used my working pants as sample. The side pockets were excluded but the hind pockets were sewn for my wallet. The length were shortened and tapered towards the ankles. This was to reduce the excess material that had be tucked into the boots and made me uncomfortable at the ankles.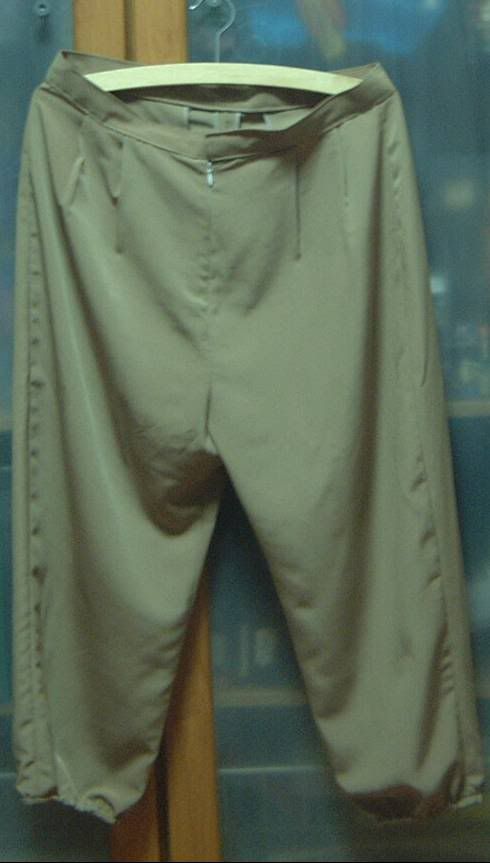 Cloak
The cloak required the most amount of material. I would like to highlight that the hood has to be big enough, so that when it is up, there will be two folds on both sides of your head.
Actual hooded Obi-wan promo pic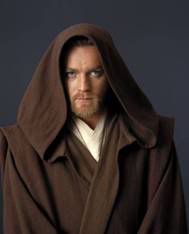 Hood up. The folds are still not perfect yet as they are draping down.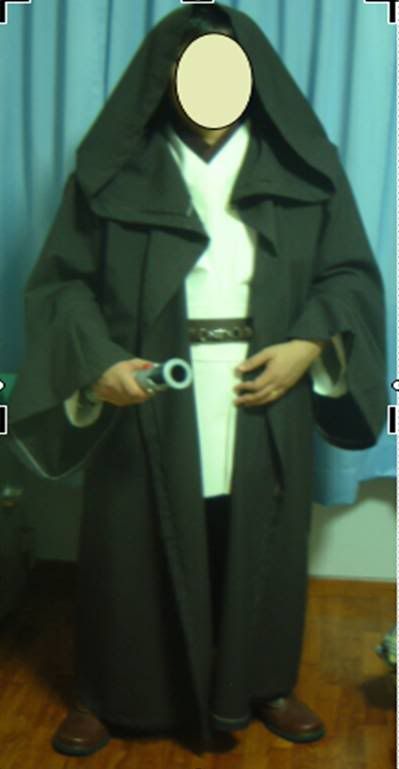 Hood down
Templates
Here are the various templates. These were drawn according to my size and shape ( My height and waist are 1.68 m and 34 inches respectively... Out of shape for my height

) You may alter the measurement to suit you. Note that some templates are just half sides, so you have to flip over the templates for the other sides.
for Outer Tunic
Front Right side of Outer Tunic
Rear Right side of Outer Tunic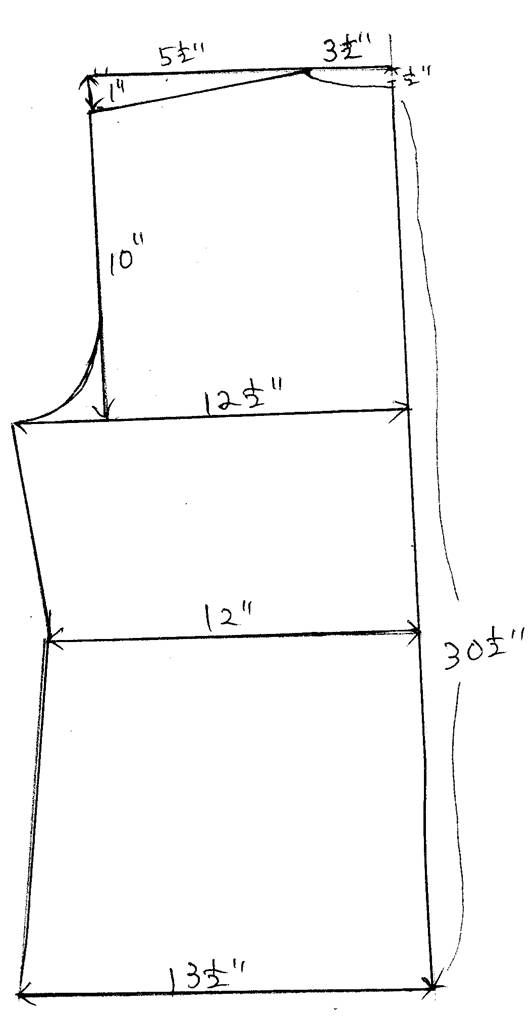 Outer Tunic's Sleeve.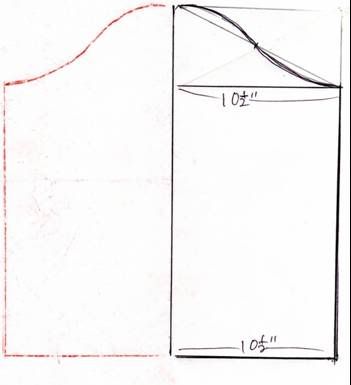 For Cloak
Front Left side of Cloak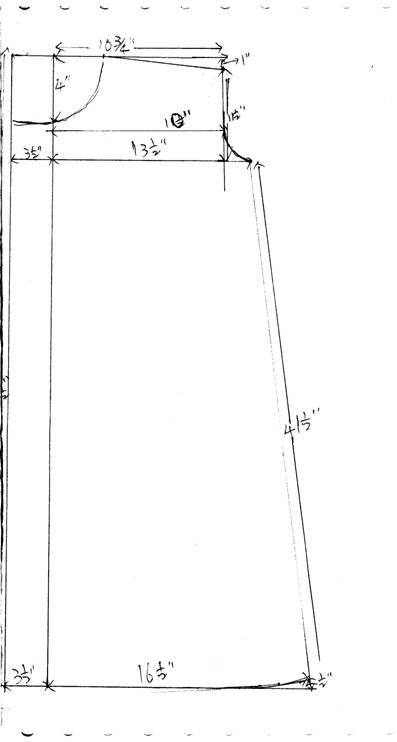 Rear Left side of Cloak
Cloak's Sleeve
Cloak's Hood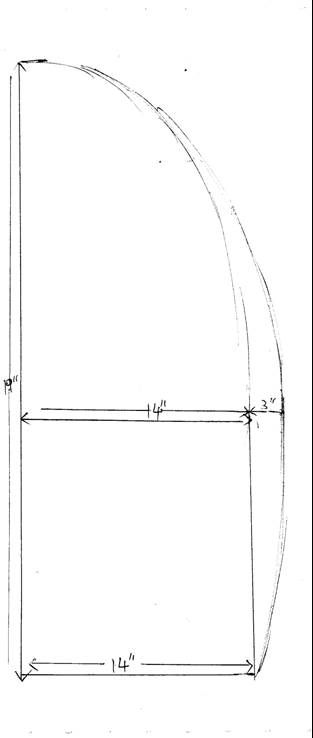 for Sash/ Tabards/ Inner and Outer Tunics Collars
Jedi accessories
Most of these accessories were bought from the shop.
Belt/ Pouches/ Food pallets and Jedi Clips
For Pouch X, I had custume made it at a stall in Golden Mile Hawker that was recommended by GetzJedi. This pouch was not worn by Obiwan but I had found the design by some 3rd party seller's website which I could not locate anymore. I had also made Anakin's rectangular front pouch at the same time.
Food capsules
These were made out of Pen caps (From padawan guide web site too). But unless you have a lots of these pens and gold/silver/ copper spray cans, it can be more expensive to buy them and make them.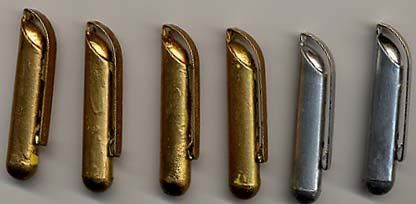 The lightsaber belt clip were actually a Covertec pager belt clip that I got from a fellow member. The actors actually use the pager belt clip to hold their lightsaber in the prequels.
Front view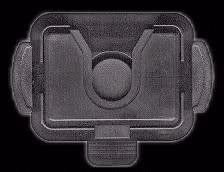 Rear view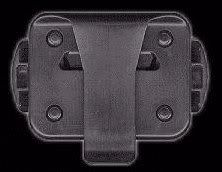 You may order one from UK at the website
http://www.swbeltclip.com
If you want to make low budget Jedi belt or just making them for your kids who will grow at alarming rate, you can just use a PVC or fake leather material and fold them at the center. You could add a thinner strip in the middle to look better. Use super-glue to stick the fold and strip. The ends of the belts are attached with Velcro.
Jedi Communicator
This is how the real prop looks like... Source got from the post by Donleow
viewtopic.php?t=1081
The following is fan made found in padawan guide. This was actually made from a female Gillette shavers that can be locally bought in Supermarket. I have bought one with my wife's help but have yet to customise it.
Boots
Again you could get this at the shop too. You could use army boots, safety boots or other boots that are kneel high.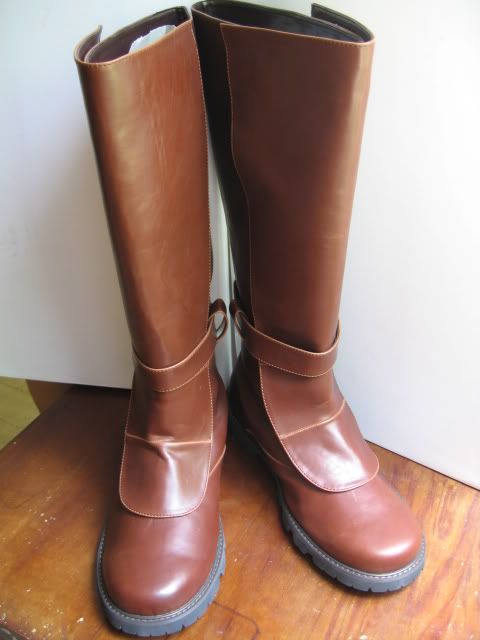 The cheap alternative is to use PVC material and cut out the shape to hide the shoe laces of your shoes and lengthened the height. Use a piece of newspaper to draw out a shape and latter use as a template.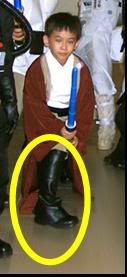 Light sabers
Both of us use the Hasbro's lightsabers. I have just bought the Rubies ones from States as the blades can retract and I can wear them on my clip belt. Eventurely, I would update to Master Replica's FX.

Both my son, Luther, and myself wore the Jedi costumes made by my mother and enjoyed the last weekends of AoSW at SSC with other costumers.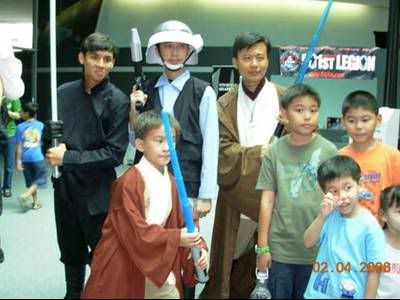 [
Although my costume may require a lot more work before it resembles the real thing...
but it is definitely very dear to me 'cos of the effort my mother and I have put into it.

Do contact me if you need help. I will still update this document as and when I have better props, more details or clearer pics.
May the Force be with you!!!