***[Updated on 11 March]

Tickets on sale now!
*****************
***[Updated on 9 March] Here's the news you have been waiting for... We are going to catch the Preview screening of Fanboys
When: 18th March, 7pm
Where: GV Vivocity
Q: How do I buy tickets?
A: Tickets are on sale now. Buy your tickets directly at the Box Office or Online.
http://www.gv.com.sg/moviedetails/gv_mo ... s_0317.jsp
Q: How much is each ticket?
A: $10 for adults. $8 if you are student and produce valid student ID when purchasing at the Box Office.
** Note that the film is likely to receive NC16 rating, so for those under 16, sorry... **
Q: How do we make sure we get to sit together?
A: Everyone taking the effort to be there is a Star Wars Fan (or will pretend to be one for that night

), so we will all be sitting together with fellow fans.
Q: Why should I go for this screening?
1. You get to watch it before the general release which is scheduled for late March.
2. You will be in the company of Star Wars Fanboys & Fangirls.
3. Starwars.sg and the 501st Legion will be there!
4. You can come in costume and will not stick out.
5. If you need more reasons, you are probably on the wrong forum

Q: I heard this is a
Blog Aloud
event. What's that?
A: Stay in your seats after the movie ends. This is your chance to meet and chat with fellow fans, share your passion for Star Wars, find out how to get the Stormtrooper costume you've been dreaming of, get in touch with the latest happenings in the local Star Wars scene.
Q: It's still a few days to go before the event. What can I do in the meantime?
A: Spread the word. Tell your friends. Bring your family. Announce it to every person you meet in office or school or wherever.
*****************
***[Updated on 8 March] For those of you who didn't guess right...
we are actually referring to the movie Fanboys... about
Star Wars
fans

The pic below is a scene from the movie though

Are you a

Fan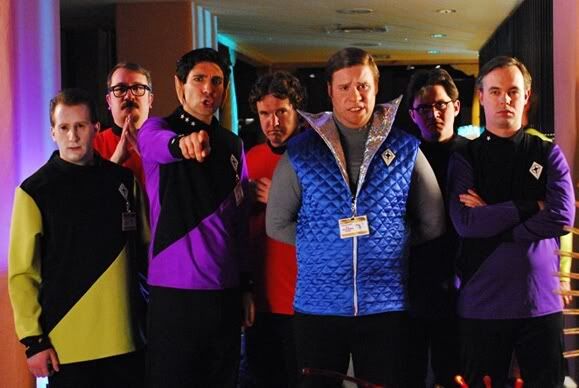 Boy
, you're gonna wanna watch this space closely in the weeks to come...